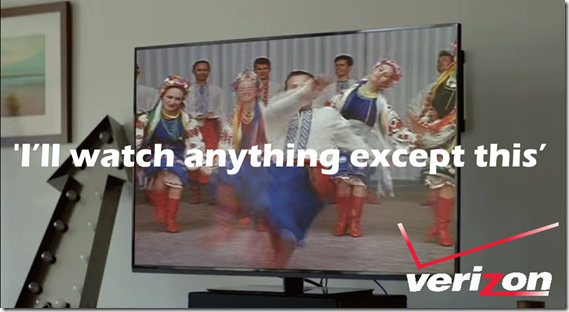 For American TV watchers, telecommunications giant Verizon's latest campaign 'Customize TV' features Ukrainian culture in the not-so greatest light. Featuring Rashida Jones from the Office and Parks & Rec, she pleads to have the channel changed from airing Ukrainian dancers, uttering 'I'll watch anything except this'. See below:
For those who want to express themselves, Verizon has a Facebook page and Twitter. As well they can be reached over the phone:
If you want to submit an inquiry or concern to Verizon's Office of Ethics and Business Conduct, please call the VZ Compliance Guideline at 844.VZGUIDE (844.894.8433) for U.S., (+) 800-0-624-0007 for International
Stay connected! Become a Fan on Facebook, Follow me on Twitter, Subscribe with RSS feeds or Sign-up for E-Mail updates.