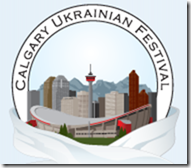 June 6-7
Calgary, AB
To provide to the citizens of Calgary an informative, educational and entertaining festival that celebrates all aspects of our  unique and rich Ukrainian heritage and to raise the profile of Calgary's Ukrainian Community through a professional and inclusive annual event that showcases Ukrainian arts, cuisine, entertainment and culture while highlighting true Ukrainian hospitality.
June 19-21
Yonkers, NY
The annual Ukrainian Heritage Festival offers you three days of warmth, food, fun, and excitement, and we are certain you will agree this is our best festival to date. There is plenty to do and see, so bring the whole family over. Let your children have some magical moments on the rides, or try to win a gift for that certain someone at one of the games.
Kingston Ukrainian Folklore Festival
June 12-14
Kingston, ON
The Ukrainian Club of Kingston this weekend presents Folklore 2013: the Lviv Pavilion with Ukrainian food, performances and exhibitions.

When: Friday June 12th – 6 – 10pm
Saturday June 13th – Noon  -10pm
Sunday June 14th – Noon – 6pm

Where: Regiopolis Notre Dame Catholic High School, 130 Russell Street, Kingston, ON

Admission: Passport $5 – At the door
(613) 549-5060

The Mississauga Ukrainian Festival at Celebration Square will bring a sample of the culture, cuisine and crafts of Canadians who are of Ukrainian heritage. The Festival will offer a complete family experience for the very young to the young at heart. Local talented entertainers will amaze audiences with their acrobatic and rhythmic dance. Musicians and singers will also grin audiences the Ukrainian soul and history. A refreshment garden serving tastes from Ukraine should not be missed. Local vendors of crafts and food will offer ethnic and Canadian delights. Photo opportunities. A tour about being Ukrainian.

 

All events start at noon on June 20th and end at 11:00 pm. Come and join in the celebration.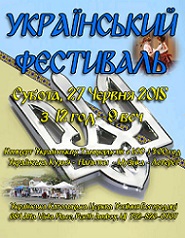 June 27th
Perth Amboy, NJ
The festival will feature church tour, live entertainment by "Cheremosh", dancing, family activities, vendors, traditional Ukrainian homemade  food/beer, raffles and more.

June 27
Acton, ON
"Zolotyj Klen" (Golden Maple) is an exciting celebration of Ukrainian Music, held each summer at the Ukrainian Youth Association camp grounds "Veselka". The festival is held yearly for Canada Day. It has a wonderful family atmosphere where festival goers can meet many friends. People are free to relax on their own, or participate in the day long program. The concert starts just after lunch and lasts the entire day culminating with a musical act direct from Ukraine!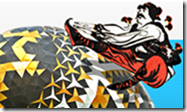 July 3-5
Vegrevilla, AB
Delicious authentic Ukrainian food: some of the best hearty comfort food. Treat your eyes and ears to 5 amazing grandstand shows! Smell the aroma of fresh baked outdoor oven bread… and the taste of this bread is like no other! 
Go back in time to see how rope-making and blacksmithing was done by pioneers.
Tap your foot to some upbeat Ukrainian music as you listen to some upbeat Ukrainian music. Dance the night away at our evening Zabavas–the best Ukrainian parties always have a Kolomeyka! The beautiful colourful display of folk arts cannot be missed… do you have time to learn how to make a Pysanka? Visit the Yarmarok marketplace to take home a Ukrainian blouse, Pysanky and many more items!
Gardenton, MB
July 11-12
Dancers , Ukrainian music & food. Huge kids fire truck slide , dunk tank, kids games and hands on crafts. petting zoo and we have the tour of the museum and school and then and hay ride to a 100 year old church and our historical bridge. Fun fun fun

https://www.facebook.com/pages/Gardenton-Park-Museum/736829033013554

July 10-12
Kerhonkson, NY
Soyuzivka, also known as Suzi-Q or The Q, is a year-round Ukrainian resort and cultural center located inKerhonkson, New York in the Shawangunk Ridge area south of the Catskill Mountains of upstate New York, providing workshops, seminars, concerts, dance recitals and art exhibits for those interested in learning about Ukraine and its rich culture.

Their annual Ukrainian Cultural Festival is happening this weekend at the resort and will feature bands Hrim, Zrada and Haydamaky.

July 16-19
Belfield, ND
The North Dakota Ukrainian Festival is an annual festival featuring authentic Ukrainian cuisine, arts, dance, music and history in Western North Dakota. The festival has been going strong for over 25 years and continues to grow and improve with each year. The main events of the festival include performances by the Ukrainian Dancers Stepovi and the students of the Ukrainian Arts and Dance Camp, meals featuring authentic Ukrainian cuisine (pyrohy, holubtsi, beet leaf bread, borscht, etc.), displays of Ukrainian arts, educational presentations on Ukrainian history and culture, as well as a lively evening Zabava with a live Ukrainian band and formal dinner.

July 18-19
Johnson City, NY
Be Ukrainian for a day! Ukrainian Food, Pastries, Arts & Crafts, Outdoor Grill, Games for Children & Church Tour each day!

July 22-25
McKees Rocks, PA
"A Celebration Of Faith And Community"
Live Entertainment Every Night!
Lamb Roast • Funnel Cakes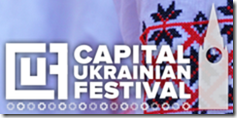 July 24-26
Ottawa, ON
Do you want to savour, learn, and experience the best of Ukrainian hospitality, culture, heritage and cuisine? Want to learn the history, and understand the heart and soul of Ukrainian-Canadians? Come to the Capital Ukrainian Festival, Ottawa's first annual Ukrainian summer festival!

Friday, July 24, 2015 (8:00 pm – 1:00 am) – 1000 Byron Ave (no Vendors)
Saturday, July 25, 2015 (11:00 am – 11:00 pm) – 952 Green Valley Crescent
Sunday, July 26, 2015 (11:00 am – 6:00 pm) – 952 Green Valley Crescent

July 25
Parma, OH
Annual Parish Ukrainian Festival Parish Feast Day Celebration

July 26
Buffalo, NY
Featuring delicious foods, music, basket raffle, dance performance, venders, cool beverages.
July 26
Cheektowaga, NY
12 Noon to 10PM. Music by "Budymo Razom" from Rochester. Performances by various Ukrainian dance groups and soloists. Ethnic food, Ukrainian and local beer, wine available.

July 31 – August 2
Dauphin, MB
In the fresh air and sunshine, enjoy the incredible view and watch the world-class grandstand shows from the only 11,000-seat, hillside amphitheatre in Canada. Authentic, rich, uniquely Ukrainian and ultimately… delicious! Excite your senses with our all-day-available traditional cuisine. As we tell our stories through costume, song and dance, you will literally see and feel the past come alive. For one whole weekend, escape to become immersed in a new adventure. Let us put a fiddle in your hands, show you a few steps and teach you some Ukrainian songs. Then celebrate with us at the nightly Zabavas; parties thrown in honour of our guests… you!

August 1-3
Elmwood, Ontario
The only Vatra held in Canada, lets you put up your tent, park your car, enjoy the many attractions & so much more. Youth – 16 & under – free admission. Three days of fun – b0nfire, watch how the pigs are roasted & then get to eat some too, concert, performers from USA & Canada, great lottery prizes, two dances to live music, wagon rides, delectable foods including the all-time favourite "flaczke". Back by popular demand "LEMKO'S GOT TALENT" and so much more. A great family event – young or old, you are sure to have loads of fun.

August 9
Ukrainian Cultural Heritage Village, Alberta
A celebration of all things Ukrainian past and present, Ukrainian Day recognizes the rich tapestry of Alberta's Ukrainian community today.

Ukrainian Day starts with a pancake breakfast, followed by divine liturgies, memorial services and recognition of east central Alberta's centennial pioneer families. An afternoon concert features some of the finest musicians, dancers and performers. The 'Taste of Ukraine' food fair, the Ukrainian Community Showcase & Art Sale help enrich this celebration of Ukrainian culture, heritage in Alberta. This signature event is co-hosted by the Ukrainian Canadian Congress – Alberta Provincial Council.

http://www.history.alberta.ca/ukrainianvillage/specialevents/specialevents.aspx
http://www.uccab.ca/UkrainianDay/

August 2-3, 4-8, 9-15
Winnipeg, MB
Ukraine-Kyiv Pavilion – August 9-15

Join us as we honour the 200th birthday of Ukraine's national bard, Taras Shevchenko. View artwork created by children in Manitoba's Ukrainian bilingual program and let your family create masterpieces of their own in our craft area. Enjoy some of our culture's culinary favourites, such as varenyky, holubtsi or kovbassa. The high-energy performers on our main stage are always an audience favourite. Stop into the marketplace to enjoy the live music of many local house bands. Don't forget to visit the coffee house to enjoy a torte or nalysnyk and the boutique to take home a bit of Ukrainian culture.

http://www.folklorama.ca/find-a-pavilion/40?pavilionId=40&weekId=0&areaId=0

Spirit of Ukraine Pavilion – August 2-3, 4-8

The theme for our 2015 Cultural Display will be "Ukrainian Immigration and settlement in Canada" showcasing the adventure taken by the first waves of Ukrainians that originally settled throughout Canada. Thanks to the Ukrainian Culture and Heritage Museum in Sandy Lake, MB, Gardenton Ukrainian Heritage Museum, and Cooks Creek Heritage Museum for their participation in the display.

August 15-16
Leighton, PA
Traditional Ukrainian foods and refreshment, folk art exhibition and demonstrations (beadweaving, embroidery and decorated eggs), gift and craft vendors,                  swimming, children's games

August 13-16
Rochester, NY
The  St.  Josaphat's  Ukrainian  Festival  was  established  in  1973  as  an  effort  to  introduce  Ukrainian  Arts  and  Crafts,  Ukrainian  food,  and  Ukrainian  music  and  dance  to  the  Rochester  community.   Since  its  inception  the  Festival  has  offered  tradition  Ukrainian  foods  such  as  Varenyky  (or  pyrohy  or  pierogies)  a  potato  and  cheese  dumpling,  Holubets  (stuffed  cabbage  rolls),  Kovbasa  (Ukrainian  sausage),  Kapusta  (Ukrainian  style  sauerkraut)  and  Borsch  (beet  soup)  to  the  public. The  Festival  also  has  a  number  of  vendors  who  display  a  variety  of  Ukrainian  Arts  and  Crafts  such  as  ceramics,  embroidery,  wood  carvings,  jewelry  and  Ukrainian  Easter  eggs. The  Ukrainian  Stage  offers  a  variety  of  entertainment  including  Tradition  Ukrainian  Folk  Dancers  and  Singers  both  from  Rochester,  New York  and  Canada.

August 13-15
Saskatoon, SK
You will be welcomed at the door and ushered into an atmosphere of food, fun and festivity. No doubt, you will want to try some tasty home cooked meals made from our babas' recipes. Then, wander through our boutiques and cultural displays. Sit back and enjoy our continuous entertainment from top-notch Ukrainian singers and dance groups. Finally, work off some of that Folkfest food by hitting the dance floor to polka to the music of our house band.

http://www.saskatoonfolkfest.com/pavilions/ukrainian-karpaty/
Ukrainian Day in the Park
August 22
Saskatoon, SK
Ukrainian Day in the Park is Saskatoon's FREE Outdoor Festival. This year it will be held on Saturday, August 22d. 11:00 am – 7:00 pm @ Kiwanis Park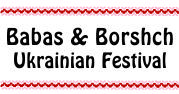 August 22-23
Andrew, AB
This FREE Festival will honour and celebrate the very best of the Ukrainian culture–food, history, religion, arts and culture—through a fun, hip approach. Not Ukrainian? No problem. We'll make it happen when you show up at the Passport Office to "assume" your Ukrainian name and identity.

August 23
Horsham, PA
Exciting, spectacular, dazzling, breathtaking, exhilarating, spirited, soulful, enchanting, captivating, and intriguing – modest words which describe but by no means capture the essence of Ukrainian folk art, music, and dance. From the rich color and deep symbolism of the delicate "pysanka" (Ukrainian Easter Egg) to the thunderous, climatic, power, rhythm and strength of "HOPAK" – the world's most exciting ethnic dance, and every brilliant "Kolomiyka" (polka) and soulful folk song in between, we invite you to experience the TWENTIETH ANNUAL UKRAINIAN FOLK FESTIVAL, celebrating the anniversary of our ancestral homeland's independence. Enjoy a festival stage show, a public dance, Ukrainian foods and baked goods, BBQ pit, kid's fun area, and Ukrainian hospitality.

August 23
Ukrainian Cultural Heritage Village, Alberta
Catch the musical magic at the Friends' Ukrainian Music Festival featuring an array of the region's finest Ukrainian folk musicians. This dynamic event encompasses an abundance of entertainment, exhibits, children's activities, a village market, and delicious foods. Visit the Historic Village where you can enjoy wagon rides and chat with historic settlers as they go about their daily routines.

http://www.history.alberta.ca/ukrainianvillage/specialevents/specialevents.aspx
August 30
San Francisco, CA
Ukrainian Cultural Program for Commemorating the Anniversary of
Independence of Ukraine

August 24
Buffalo, NY
Featuring delicious foods, music, basket raffle, dance performance, venders, cool beverages.
Labor Day weekend "Zdvyh"
Sept 4-6
Ellenville, NY

September 11-13
Montreal, PQ
Quebec's Ukrainian community is 18,000 strong with active members in the development of Quebec in areas of art, culture, politics and business. In Canada, Ukrainians constitute more than 1,000,000 in population. Ukraine is an independent democratic state in Eastern Europe with more than 50 million people living in an area of 603,700 sq. km, an area larger than France and fifth in size by population in Europe

Sept 12-13
Baltimore, MD
Baltimore Ukrainian Festival Committee works to share the Ukrainian heritage & culture by providing the following:

Live Entertainment: Traditional Ethnic Dancers, Musicians & Singers
Serve traditional foods, breads & beverages of Ukraine the bread basket of Europe
Ukrainian Folk Arts:  Paintings, Carved Wood & PSYANKY Egg Demonstrations
Novelties: Ceramics, Embroidery Clothing, Jewelry, & Religious artifacts
History of Ukraine – Famine, Chernobyl, Orange Revolution

Connecticut State Ukrainian Day Festival
Sept 13
Stamford, CT
Annually for the past 45 years, on Sunday following the Labor Day holiday, the Connecticut State Ukrainian-American community enriches the ethnic heritage of our area with wonderful Ukrainian Festival on St. Basil's beautiful campus. As many as five thousand people have attended this annual event. The festival is organized to help our state and the surrounding states keep Ukrainian people together by providing an event to bring them together as well as raising money for our Ukrainian Catholic Diocese.

September 18-20
Toronto, ON
The Festival was born in 1995 as the result of the twinning of Toronto and Kyiv. It then came under the umbrella of Ukrainian Canadian Congress Toronto Branch as one of its projects.  While attendance in the first year was estimated at 3,000, within ten years the Festival has grown to attract audiences of 350,000.

The Toronto Ukrainian Festival is a celebration of Toronto's diversity. It has established itself as one of the premier Ukrainian festivals in North America. The Festival takes pride in showcasing contemporary professional and amateur artists and performers of Ukrainian heritage who celebrate Ukrainian culture through music, dance and visual arts.
September 19-20
Silver Spring, MD
The festival became a riveting success from its very beginning, with throngs of visitors enjoying unusual foods, arts and crafts, and entertainment on the inviting Cathedral grounds. In a setting of more than six acres and apastoral pond under the shade of the golden domes of the beautiful Cathedral, visitors to the festival are immersed inthe beautiful and authentic Ukrainian mosaic. From the Cathedral to the Cultural Center to the grounds and the permanent outdoor stage featuring Ukrainian entertainment, to the food tents and vendors' village, to the Kozak beer garden and grill, to unforgettable Ukrainian tortes and sweets, to the Ukrainian deli and an abundance of children'streats and activities, the Washington Ukrainian Festival is so unique that it rightly attracts many thousands of visitorsevery year.

TBA
Minneapolis, MN
The Twin Cities Ukrainian Heritage Festival is held every year to celebrate all things Ukrainian in our community and to demonstrate Ukrainian-American contributions to community life in the Twin Cities area and beyond. We invite all our friends–Ukrainian and non-Ukrainian alike–to join us on this fun, celebratory day!

Each year at the festival there are carnival games and other activities for children, Ukrainian food, an outdoor beer garden with Ukrainian beer, and a live concert program both inside and outside of the Ukrainian center. There is also a varenyky (pierogi) eating competition and a competition for Festival Royalty. The Festival Royalty receive pride of place on the Ukrainian community float for the annual Northeast Parade, Aquatennial Parade, and Columbia Heights parade each following year! Also for the first time in 2011 the festival introduced the Ukrainians Got Talent competition.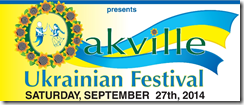 Sept 26
Oakville, ON
Make sure you come hungry. Delicious homemade Ukrainian food to take home or to enjoy while watching the non-stop performances on stage.

Performances featuring Ukrainian dance groups, singers and musicians. Browse the outdoor market showcasing crafts, gifts, art, honey & garlic. Facepainting for the children. Beer garden & BBQ for the adults. Best of all Admission is free.
October (TBA)
Barrie, ON
Whippany Ukrainian Festival
October 3
Whippany, NJ
This community fundraiser features great music, singers, and dancers, Ukrainian food and home-made desserts, an international beer garden, games for the kids, vendors and more!

https://www.facebook.com/events/581921001844958/

October 10
Philadelphia, PA
Everyone will have fun at the Philadelphia Ukrainian Festival from children to grandparents. There will be Kids Fun Zones, Live Music, Dance Shows, Folk Displays, Auctions/Raffles, and Vendors. Everyone will have a great time at the Philadelphia Ukrainian Festival. It will be held at the Ukrainian Educational and Cultural Center, indoors and outdoors. There will be traditional Ukrainian food such as Pierogies and Kobasa.
October 17
Sudbury, ON
With its infectious spirit, you can't help but get swept up into the flurry of activities and excitement that is YARMAROK.  Built on the format of Toronto's world famous Caravan, Nick Nykilchuk, an active member of the Ukrainian community and festival founder wanted to bring that same attention and excitement to Sudbury.  With the support of volunteers from its four internal organizations, OYK (the Women's Auxillary), MYHO (the youth group), the War Verteran's and YHO, its combined membership first began Yarmarok in 1974.  The Ukrainian National Federation was the starting point for many performers who progressed through the Ukrainian School of Language and the Ukrainian School of Dance as they developed their skills in song and dance, growing their passion and building it into a career.  Performers like the Black Sea Kozaks dance group, operatic performer of the Austrailian Opera House Oksana Rohatyn, and operatic performer in Toronto and the United States, Joanne Kolomeicz, first showcased their talents at the Ukrainian Festival Yarmarok.  Yarmarok has developed, changed and has grown over the years.  Now, 39 years later, the Sudbury Yarmarok Festival is a weekend of action packed excitement with performances by the Veselka School of Dance, the Veselka Dance Ensemble, the Sudbury World Youth Exchange, Dnipro Ladies Ensemble, fashion show and featuring "Zabava" for our opening night Gala!