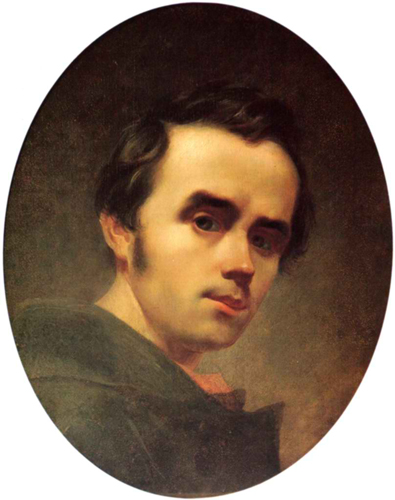 Yesterday was the 199th anniversary of the father of Ukrainian language and identity, Taras Shevchenko – poet, author and artist. Today is the anniversary of his death in St. Petersburgh, and two months later was re-buried in his native Ukraine to fulfill his last wishes as memorialized in his testament:
My Testament (Zapovit)

When I am dead, bury me
In my beloved Ukraine,
My tomb upon a grave mound high
Amid the spreading plain,
So that the fields, the boundless steppes,
The Dnieper's plunging shore
My eyes could see, my ears could hear
The mighty river roar.

When from Ukraine the Dnieper bears
Into the deep blue sea
The blood of foes … then will I leave
These hills and fertile fields –
I'll leave them all and fly away
To the abode of God,
And then I'll pray …. But till that day
I nothing know of God.

Oh bury me, then rise ye up
And break your heavy chains
And water with the tyrants' blood
The freedom you have gained.
And in the great new family,
The family of the free,
With softly spoken, kindly word
Remember also me.

Taras Shevchenko
Pereyaslav, December 25, 1845
Translated by John Weir Toronto, 1961
A comprehensive list of his works are available at his online museum including his poetry, as well a detailed biography about his life, and his entire 'Kobzar' in Ukrainian. Also, North America's only museum dedicated to him is in Toronto and open for visiting – which houses his now rescued statue
Ukrainian literature day
And while the Toronto reference library celebrated it last night with info sessions and exhibitions, it's never too late to read up on your own. A while back we complied a good starter list to get you going, a good list of e-books, and books that have come out lately.