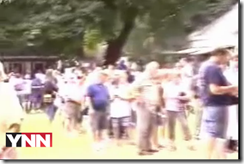 From Your News Network:
The annual Ukrainian Festival at St. Nicholas Church in Elmira Heights has grown exponentially

…

Sixty four years ago, the first Ukrainian Festival may have been a pretty small operation, but the lines and crowd that were on hand Sunday show that this celebration has come a long way.

…

The polka music brought crowds to the dance floor, the kid's games were very popular but the authentic Ukrainian food trumped them all. The lines at any time throughout the day could be over 100 people long, so there had to be enough food to go around
It's great to see Ukrainian festivals becoming increasingly popular in the State of New York – whether it's Buffalo, Yonkers, the Catskills mountains, Rochester or even New York City. There are even more events in our 2011 Summer guide!