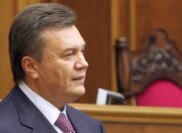 It was September 24, 2004 – two months before the Orange Revolution. Earlier that month, Ukraine's first-ever serious West leaning Presidential contender Viktor Yushchenko was mysteriously poisoned in Austria, but managed to survive the assassination attempt and gained much exposure from the press. The poisoning was denied by the media owned by Ukraine's richest man Viktor Pinchuk (son-in-law of former President Kuchma) who today enjoy's being a 'philanthropist'  and frequently rubs shoulders with the likes of Elton John, Madonna & the Clintons.
Fearful of the support Yushchenko gained, his pro-Russian rival Viktor Yanukovych (appointed Prime Minister by the same President Kuchma) planned to stage his own assassination attempt in hopes of deflecting his opponents attention and receiving some of his own. While touring in Ivano-Frankisk, he was to be shot while exiting his tour bus in front of a large crowd.  Unfortunately before the plan was executed and as Yanukovych exited the bus – a youngster hurled an egg at him. Yanukovych continued on pretending he had just been assassinated, clutching his chest and collapsing onto the ground:
He (Yanukovych) was widely ridiculed after the 2004 "egg incident" in Ivano-Frankivsk, when an opposition activist threw an egg at him in public. Mr Yanukovych collapsed to the ground, groaning and clutching his chest.

Initially taken to hospital and put in intensive care, he recovered within hours and went on television to say he felt sorry for the "wayward" youngster who had thrown the egg.

[BBC]
Stay connected! Become a Fan on Facebook, Follow me on Twitter, Subscribe with RSS feeds or Sign-up for E-Mail updates.