Looking for Olga's interview on the CBC's Sunday Edition?
The BBC is running a video on 92 year-old Saskatchewan track star Olga Kotelko – the oldest long jump competitor in the world, holding 23 world records and considered one of the world's greatest athletes: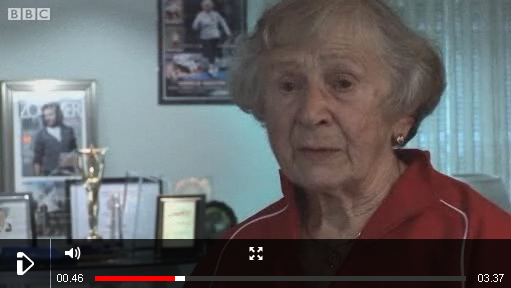 BBC doesn't allow embedding of their videos, click the picture to go to the video
We last heard from Olga when we covered her as an Olympic Torch bearer in Vancouver's Winter Games last year. At around 1:17 in the video, she mentions her parents are Ukrainian.
Here's a quick run down of the Women's world records she holds:
200 metres
High Jump – 2
Long Jump
Triple Jump – 2
Shot Put
Discus Throw – 3
Hammer Throw – 3
Javelin Throw – 2
Weight Throw
Throws Pentathlon – 2
4×100 metres relay
It's also worth nothing her birthday is March 2nd, 1919 – making her 92 and not 91 as the BBC article states, which I wasn't at all impressed with:
perhaps most remarkable is that most people Olga's age consider it an accomplishment – and exercise – simply to be breathing in and out
I hope it's not a sign to come as the BBC deals with massive cuts.
Stay connected! Become a Fan on Facebook, Follow me on Twitter, Subscribe with RSS feeds or Sign-up for E-Mail updates.