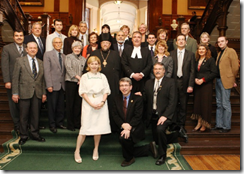 While we've been tracking its status since last year, and when it was put forth this year and passed its third reading, I forgot to post when Ontario's Holodomor bill received it's Royal Assent last week – making it official:
Ontario will observe Holodomor Memorial Day, after a private member's bill originally spearheaded by Brant MPP Dave Levac received Royal Assent.

Bill 147, which Lt.-Gov. David Onley signed into law late Thursday afternoon, sets aside the fourth Saturday in November each year as the day that Ontarians commemorate victims of the Holodomor, the manmade famine of Ukraine.

"This marks an important day for Ukrainian-Canadians and especially for the family and friends who fell victim of the Holodomor," Levac said in a telephone interview after the signing.

"Through the creation of a Holodomor Memorial Day, we mend a wrong in world history and in defiance to tyranny and oppression, continue to preserve the culture, heritage and way of life of the Ukrainian people.

"Royal Assent will allow us to never forget these horrors from the past."

The Holodomor is the name given to the famine in Ukraine from 1932 to 1933, engineered by the regime of Josef Stalin to consolidate what was then a province of the Soviet Union.

About 10 million Ukrainians are thought to have perished from the regime's policies of forced collectivization of agriculture that created mass starvation in an area that was a grain breadbasket, because nearly all production was sold abroad for cash to afford a costly industrial policy.
You can view the bill here, which is the province's first-ever tri-sponsored private members' bill passed by MPP's Dave Levac of Brant, Frank Klees Newmarket-Aurora, Cheri DiNovo of Parkdale-High Park. Congratulations!
So now that's Alberta, Manitoba, Saskatchewan, the entire country and parts of the USA – where to next? 🙂
Stay connected! Become a Fan on Facebook, Follow me on Twitter, Subscribe with RSS feeds or Sign-up for E-Mail updates.